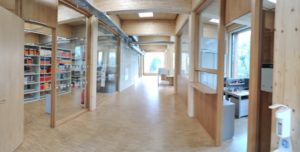 A new learning centre and textbook collection has been set up by the library in the Ilse-Wallentin-Haus.
The textbook collection is equipped with a self-check-out terminal where BOKU students can borrow and return books independently after logging in with their BOKUcard. The payment function at the terminal allows the payment of possible fees.
The learning centre offers reading places for 82 users in quiet, natural surroundings and meets the great demand for reading space by the students. All reading places are equipped with reading lamps and power sockets.
Attention: Due to the Corona measures, access to the new textbook collection and learning centre is not yet possible. The textbooks can be ordered by e-mail until further notice. They will be retrieved by the library staff and made available for collection at the circulation desk in the main library.